If you want the quickest way to break the ice between new-found friends, I would suggest visiting a jjimjilbang. I guarantee having to be totally naked with someone you have just recently met will definitely allow you to pass into the other person's comfort zone in a very short amount of time!
I've been living in South Korea for nearly nine months now and it was only a month ago that I finally managed to pluck up the courage to visit a jjimjilbang. I knew I would have to at some point if I really wanted to experience one of the aspects that makes the Korean culture unique.
A jjimjilbang is basicly a public bathhouse. It is often visited by those late night party-ers that just need a shower and a floor to sleep on, or travelers on a budget, or even by families as a bonding trip. They are open 24 hours and have hot tubs, showers, Finnish-style saunas and massage tables. Depending on the size and popularity of the jjimjilbang, as well as if you are just using the shower area or want to stay the night, the prices range from 4,000won to 10,000won per night (approximately $4 - $10 NZD).
My first experience was at
Riverside Spa Land
in Seoul. This is quite a big and well-known jjimjilbang, so I'm glad this was where I had my first taste at this sort of thing. Upon entry, you are given two Korean-sized towels (meaning the size of what we use as hand towels in western countries) and gym clothes to change into to sleep in for the night. As I had a hiking back-pack they allowed me to store this behind the desk overnight, but for smaller bags you can store these in your locker they provide for you in the changing area. Also, if you forgot any toiletries there is a mini convenience store in the changing areas for you to buy and they sell everything from underwear, clothes to shampoo and soap.
As soon as I enter the woman's area I am faced with ladies in their birthday suits casually walking around either getting ready to enter the sauna or having finished, and some even just sitting around socialising or watching a K-Drama on the TV that the little convenience store had playing. I found my locker number and after standing there awkwardly trying not to make eye contact, I decided that I stood out more being clothed so I took a deep breath and disrobed. Being a foreigner I immediately expected the not-so-subtle stares to come my way, but fortunately and surprisingly no one really paid any attention.
As the ladies at the entrance counter didn't really do any run down on what the rules or procedures were, I ended up aimlessly walking around the lockers, nude, for a few minutes trying to figure out what the next step was and hoping I wasn't infringing on the social etiquette of this place. After observing for a little bit and feeling anxious to do something else other than walk around in a bright lit place naked, I finally entered the sauna area. Straight to the left and the right are the showers with standing or sitting options. Ladies of all ages are sitting there with their traditional Korean hand scrubs giving themselves a full rub down before entering a sauna. The
number one rul
e of the sauna is that you
MUST
shower before you enter a spa. If anyone catches you not doing so, be ready to suffer the wrath of an ajumma (middle-aged or older Korean woman).
There are different baths to choose with differing temperatures. There is also a sauna and if you want, a massage table where an ajumma is waiting to give you a full body scrub. This is not for woman who are feint of heart or shy about their body because they will get into nearly every nook and cranny! I opted to sit in the mid-temperature spa.Though, after about 10 minutes I almost forgot I was completely naked and just began to relax and enjoy the moment.
Hot baths
Once you have finished with the hot baths, sauna and showers you go back into the lockers and change into the shorts and t-shirt they provided for you. You go up one level and this is the unisex area where there is a variety of facilities to enjoy: aeorbics room, fitness room, movie room, arcarde, comic book room, eating and restaurant area and more. There are also themed rooms which you can either relax in or sleep in. For example they have the oxygen room, cold room, hot room, salt room, iron room etc. In terms of sleeping, it ranges with each jjimjilbang. Some may have some bunk beds, some will have mats that you can take and put on the floor and some will just have pillow-like blocks and you just pick a spot on the floor and this is your area for the night. For this particular jjimjilbang, it was more a first in first served for the good, dark areas and sleeping mats and just pick an area to lay down
.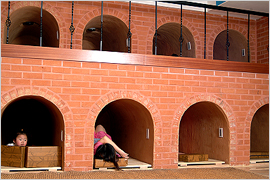 Sleeping caves
To be honest, unless you can sleep easy or are a deep sleeper don't expect a good night sleep here as most lights are on during the whole night and you will hear some loud snorers you can't block out. Although, it is definitely a great experience, one you have to do when you are in Korea. I would definitely go back again if there is ever a night I just need a quick and cheap place to sleep. Also, as much as I dread being naked infront of complete strangers I must say that I found it to be very invigorating and refreshing. It definitely makes you appreciate your body more.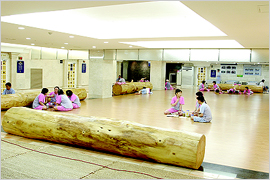 Common area / sleeping area
So if you ever head this way and want to do something a lil different, how about staying at a jjimjilbang for a night.